So You Want to Hear Us?

Warning:
All Sounds Contained on this Page Should Be Treated With The
Utmost Respect As Due to Them. Feel Free to Download, Make
Fun Of, Kick Around, And Splice To Your Heart's Desire. This
Page Isn't Responsible For The Horrible Creation of These
Songs.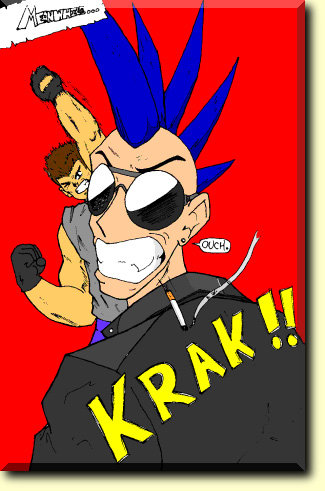 The Live Recordings
The Gops have played at several places recently,
such as Fitzgeralds and the Abyss. Some rare live
recordings are now available here. I hope you enjoy
this chance to hear Texas's own heartland punk band.
---
All sound files are recorded in .MP3 format.
If you do not have an MPEG Layer-3 player,
I recommend downloading WinAmp. It is the
best in my opinion.

WinAmp
---
Where sorry for the recording quality, but we had to sacrifice quality for disk
space.  Whole songs take up a lot of room.  If you would like to hear better quality
from the origionals, contact me at guitar_man@cyberdude.com or hopefully we have
a good copy of the song you want up temporarily.
---
A Few Selected High Quality Recordings
(for you eager fans)
These files are the same songs as the lower quality ones, but they are not
compressed as much. So they have a higher quality sound. However, they
are much larger files, so download these if you feel like waiting longer!
Realize (3:41) : Great Ska/Punk song. One of our favorites.
-Higher Quality-
Sink'n (2:24) : Cool Punk song.
-Higher Quality-
---
Some Old Garage Recordings
Sorry, but the sound quality in these few recordings is poor. They are very old and are from early on in the bands life, but they are still good!!!!
Absolute (2:26) : Absolutely one of our favorites. Some kick'n 'Bad
Religion' style punk.
---
Live At Fitz's and The Abyss
| | |
| --- | --- |
| | Sink'n (2:26) : Cool Punk song. |
| | |
| --- | --- |
| | Realize (3:41) : Great Ska/Punk song. One of our favorites. |
| | |
| --- | --- |
| | One For Me (4:28) : Some really kickn oldies style punk. |
No Surrender (3:33) : Good muting and triple picking. Cool old style
punk.
| | |
| --- | --- |
| | Saxophone Lady (2:26) : Our oldest Ska/Punk song that we still play. |
| | |
| --- | --- |
| | You Don't Care (2:44) : Great song. Denny looses a drum stick toward the very end just before his cool drum ending, fortunatly he's able to finish it off with one. What Skill! |
---