So, You Want to See Us?

Well, That is Just Tough! The Gops Right Now Don't Have Any
Tours Planned. They Have Been Known To Play: Conroe, Oak Ridge,
Baytown, The Woodlands, Houston, and many other places. This
Area Should Be Kept Under Constant Supervision Since You Of
Course Are Begging To See Them. Check Here Periodically, We Will
Try To Update This Page As Concert Information Comes In.







---
Show Listing
April 17th - Friday
The Abyss
O'doyle Rules, Half Loaded,
Holy Guacomole!
April 24th - Friday
Rembrants coffee
shop
O'doyle Rules, Crash 81
May 23rd - Saturday

Rembrants coffee

shop

O'doyle Rules, Animostiy

May 30th - Saturday

Zelda's

Switch, Holey Guacamole,
The Jeffersons, The Pills

July 31th - Friday
The Abyss

Half Loaded, G-spot(San Diego), Holey Guacamole, Secret
Agent 8????

August 7th - Saturday
Rembrants coffee
shop

IGMO, Animostiy

December 18th - Friday

Fitzgeralds/Zeldas

Good Guy Records CD Compilation Release Party!
The Suspects, Bickley, Half Loaded, Vent-o-lators, Indestructible Huxtibles, Crash 81, Lackey, Chug, O'Doyle Rules, PLUS MANY MORE..
Month : December
Come check out our first show since last summer!
Not only is this our first show in a while, it may be our
biggest. Fitzgeralds and Zeldas has been totally booked for
the Good Guy Records CD comp release with six kick ass
bands upstairs and six down. And with Zeldas recent
remodeling, this place should be packed and rockin!
You can't miss this shit! It just doesn't happen everyday!
---

Month : August
Its really too soon to know for sure what all will be
going on this month, but if all goes well it should be
fun. The Gops are starting it off with a good'ol show
at Rembrants coffee shop (ya know, that place you can
see us for free :) And after that no one knows yet.
Hopefully we'll get something else booked pretty soon
before its too late, but as of now thats the only show
planned in August.
Alright new update! Some word have arived about
some of the bands that are going to be at the Abyss
show, and it looks pretty good! The show should be
big, so don't miss out.
---

Month : July
The Gops are set to play one show only so far, and
thats at the Abyss. We don't know who's playing with
us yet, but be sure and check it out. This show might
possibly be our CD release party, so make sure and be
there!
---
Month :
May
So far The Gops are only set for one show this
month: Rembrants. After the last show getting shut
down before our appearance, we're really looking
forward to this gig. Come out, have some coffee, play
games, chat with folk, and listen to some crazy punk and
ska tunes played by The Gops themselves. And if you
thought that was too much, I'd like to add that the show is
FREE. Wow! Who could ask for anything more. :) It
should all start around 9 o'clock so don't be late. In fact,
get there early and talk to us. We're fun guys, really.
Well it was looking like we would only have one show
this month, but another one just came our way! We're
setup to play at Zelda's on the 30th, so come and join the
fun. Unfortunatly there will be an admission fee, but you're
not going to let a little thing like that stop you from comming
to this great show are you? And when you come out, tell'em
you're there to see The Gops.
---
Month :
April
The Gops now have a show currently setup at the
Abyss on the 17th of April. Other bands we have set
to play with us include some Houston greats like Half
Loaded and The Ventolators. We are currently in the
works of trying to get Middlefinger, so keep checking
here to find out the status of the show!
If all keeps going well this show should really be one
not to miss, so tell all your friends and come on out!
**NEW** as of 4/2....The Gops have a new sudden
gig lined up for Rembrants on Saturday the 4th. The
show will (as far as we know) consist of O'doyle Rules
and us. We were told that we would probably go on
around 9pm so make sure to be there. Get there early
if you like, and have a chat with us. We may even
have ready one of our new punk songs for ya! If you
don't know where it is, its off 1960 not far from I-45.
The Gops are playing yet again at Rembrants this
month. The weekend right after the Abyss show, Fri
the 24th. It will pretty much be like the 4/2 show there:
free admission, The Gops with O'doyle Rules, and some
really spiffy songs. One exception is that another band
has joined in the gig, Crash 81. So come see us again, or
for the first time!

---
Month :
March
Sorry, as of right now you'll just have to wait till next
month to see The Gops, but who knows, we could get a
gig in sometime soon for this month. So stay posted and
keep looking here.
---
Month : February
Sorry, you missed the posting for our last January
show at the Abysson the 23rd. It was a hit! The Gops
played with threeother bands: O'doyle Rules, The
Agents, and Half Loaded.The show rocked so if you
didn't come thenyou reallymissed out.
Hopefully The Gops will be setting up a show soon
around Houston, so keep your eyeson this page for
other upcommingconcerts. If you would like to see us
play somewhere in particular, let us know!

---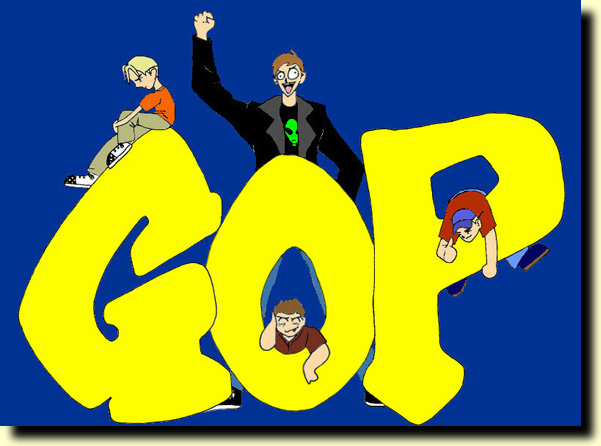 ---